netzwerk_und_internet:en_wi-fi_eduroam:seitentitel
Inhaltsverzeichnis
Using eduroam on Android devices
1. Requirements
You have to accept the WiFi Conditions once to use the WiFi. WiFi Conditions: https://service.rz.tu-clausthal.de/apps/radius/policy

2. Generating a EAP-PWD password
The following method is based on "EAP-PWD". To use this method, please follow the steps to generate your password for EAP-PWD:
On the mainpage choose "Nutzer-Service" then "WLAN" and next "EAP-PWD":

Before generating a password, please secure that no other person is watching, because of the password being displayed unencrypted. To generate this EAP-PWD password please click on (neues) Passwort generieren.

The new EAP-PWD password will be displayed. To make it easier we recommend you to copy that password now. Important: If one of your devices, which uses this password, get lost, please generate a new EAP-PWD password to prevent misusage.
For the next steps please use the recently generated EAP-PWD-Password (not the TUC-Password).
The recently generated EAP-PWD-Passwort is not valid for any other service! For other services of the TU Clausthal use your general TUC-Password.
3. Configuration: Android
Set up Eduroam on your android device as you read in the following steps:
Open the WiFi-Settings unter "Settings / WiFi".

If you already tried once to connect to eduroam before, click and hold eduroam for a little while and remove it. Otherwise, if you never tried to connect to eduroam before, just click on it once.

In the menu that opens now, please do the following settings:

EAP-Method: PWD,

Identity: <TUC-User> ("<TUC-User>" is your personal user ID)

Password: <EAP-PWD-Password> (put in the recently generated EAP-PWD-Password; don't use your TUC-Password).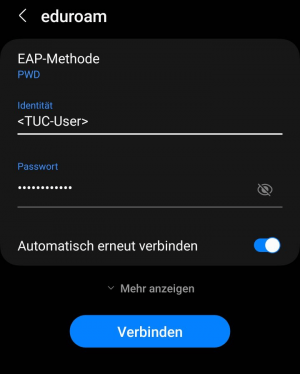 netzwerk_und_internet/en_wi-fi_eduroam/seitentitel.txt · Zuletzt geändert: 12:00 21. July 2023 von Kevin Richter
---